Supporting Musicians and Live Professionals During COVID-19
We compiled a list of resources for musicians and live music professionals during COVID-19, as well as ways fans can support artists right now.
---
---
As COVID-19 continues to spread, we realize that each week is wildly different from the last. It's difficult to keep up with the changing protocols, cancelations, closures—and it's even more difficult to wrap your head around how quickly the virus is spreading and what can be done—which is why She Shreds plans to act as a major resource in supporting the music community during this time.
Since the acceleration of COVID-19, we've seen how our community is actively supporting one another. From mutual aid on social media to crowdfunding and blooming resource lists, to companies like Moog and Korg offering synthesizer apps for free, the music industry is coming together while also respecting the necessity of canceling live performances for the time being.
Needless to say, live music is one of many industries financially suffering right now. Touring, a musicians greatest source of income, has been put on hold; festivals are being postponed or canceled entirely; and venues are closing indefinitely, resulting in a loss of work for live audio engineers, instrument technicians, lighting technicians, soundboard operators, tour managers, booking agents and agencies, venue employees, and so many more. This is all happening during peak touring season—spring and summer—and is financially hitting musicians particularly hard.
At She Shreds, we plan on keeping you up-to-date on all things music-related in regards to COVID-19 so we can all stay informed and connected during this time. This list of resources will be updated regularly, and new information will be posted separately as it unfolds.
In the meantime, I encourage you all to reach out to me directly with information regarding music resources, relief funds, crowdfunding, changes in protocol, virtual performances, and any other important content: [email protected]
Stay healthy, stay informed, stay involved.
Virtual Events Happening This Week
COVID-19 Freelance Artist Resource and Livestreaming Panel
Monday, March 16, 2020 at 5 pm PT / 8 pm ET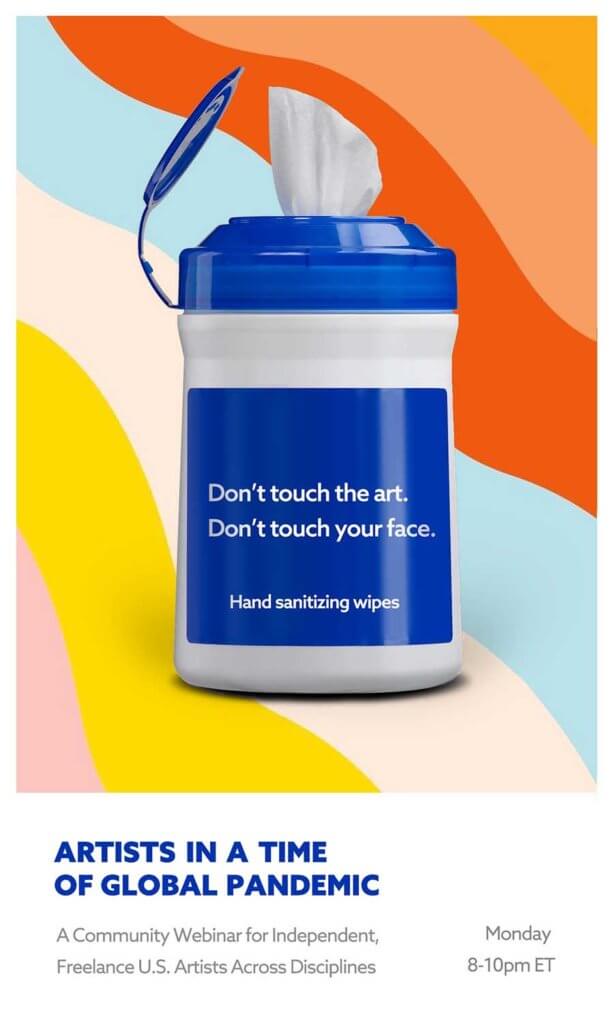 Specifically designed to serve freelance artists and those interested in supporting the independent artist community, this ever-growing list of resources is geared toward freelancers—especially those involved with live entertainment—whose work is suffering during COVID-19. It includes lists of preparedness resources, advocacy and legal information, emergency funding, international resources, and much more. We highly suggest you begin your research here, and to submit any missing resources as well.
The group has also planned Artists In a Time of Global Pandemic, a livestreaming panel that will discuss how COVID-19 is "impacting freelance artists (those who identify as independent contractors) from all disciplines and where artists can look for support in this complicated moment. The conversation will focus on shared resources (legal, advocacy, how to take your work virtual, finding emergency funding, and financial best practices in crisis) and building and grounding our national community." The panel features a variety of speakers, and will be accepting questions via WhatsApp at +1 917-686-3185.
Homoground Virtual Panel: How COVID-19 is Affecting Queer Musicians
Tuesday, March 17, 2020 at 4 pm PT / 7 pm ET
Homoground, a podcast focused on queer musicians, is hosting a virtual panel tomorrow evening to discuss the effects of COVID-19 on LGBTQIA+ musicians and to discuss ways that the community can help each other, as well as come up with solutions to alternative ways to survive financially during this time.
Speaking on the panel will be Terra Lopez (Rituals of Mine), Lauren Denitzio (Worriers), Alex Lichtenauer (Control Top and Get Better Records), and more. The panel is free, but requires registration.
Arts and Culture Sector and the Coronavirus: What We Know and How to Move Forward
Thursday, March 19, 2020 at 12 pm PT / 3 pm ET
Organized by Americans for the Arts, this panel will address preparedness, prevention, and response with members from the Americans for the Arts' staff, National Coalition for Arts' Preparedness and Emergency Response, The Actors Fund, Pratt Institute, and National Endowment for the Arts. The panel will include current information planning, handling grant funded projects, managing stress during moments of crisis, and continuing to support artists. This briefing will also include an update on the status of congressional action on economic impact and stimulus funding and how it relates to the arts and cultural sector.
Waxahatchee Live on Instagram
Thursday, March 19, 2020 at at 6 pm PT / 9 pm PT
Katie Crutchfield, aka Waxahatchee, announced that she will be performing live on Instagram this Thursday night alongside Kevin Morby. The singer-songwriter will release her latest album, Saint Cloud, on March 27 through Merge Records, and has postponed all accompanying tour dates.
Organize Your Own Virtual Performance During COVID-19
But in this day and age, it's pretty simple to just go live on Instagram to interact and perform with your audience. On Friday, Lizzo went live on Instagram to offer fans a half-hour collective calming that included a flute performance above a bowl of healing crystals, and her personal mantra for the day recited over soothing ocean sounds. Lizzo felt for fans, saying that, "a lot of their favorite artists can't play shows, or somebody they know is sick, or they might be sick, or we might be afraid of what this means for life as we know it. And I wanted to take the time today to just do a mass meditation."
How Fans Can Support Musicians
Buy records, merch, and attend virtual performances. Musicians and live performers generate most of their income by touring. If you bought tickets to a live performance that has been canceled, check with the artist to see if they're doing any virtual performances. Consider offering the amount you would have paid for a live performance. Buy records, merch, and anything else the artist offers online.
Share the music you dig. Word of mouth goes a long way. Maybe some of your social media followers and/or friends haven't yet heard of one of your favorite musician who had to cancel a tour recently. Share music on all social platforms—musicians really need the visibility right now, and we could all stand to discover some new music.
Donate. There are plenty of people who could use your monetary support, if you have the means. Throw a few extra bucks towards your favorite musicians who had to cancel tours. Keep an eye out on socials for ways to directly send money to musicians. Consider donating to the overwhelmed organizations and nonprofits that provide relief to musicians (below).
Resources for Musicians
This is an ever-evolving list, updated daily. Please feel free to reach out to us with any additional resources.
Nationally
Actors Fund Entertainment Assistance Program
Art Became the Oxygen: An Artistic Response Guide
The Blues Foundation HART Fund
Common Field's COVID-19 Resources for the Artist Organization Field
COVID-19 Freelance Artist Resource
Equal Sound Corona Relief Fund
Financial Solidarity Mutual Aid Google Sheet
Freelance COVID-19 Emergency Fund
How the current travel bans will affect artists
International Bluegrass Music Association Trust Fund
Jazz Foundation Musicians' Emergency Fund
Mutual Aid Project to Support Independent Artists in Response to COVID-19
National Coalition for Arts' Preparedness & Emergency Response
Resident Advisor – Coronavirus: how to help the electronic music community
Supporting Artists with Families in Our COVID-19 Plans | PAAL
Supporting Performing Artists Affected By COVID-19
Sweet Relief Musicians Fund Women's Arts Emergency Funds
Virtual Music Events Directory
California
California Lawyers for the Arts
COVID-19 California Arts Field Survey
MusiCares COVID-19 Relief Fund
Colorado
Hawaii
Hawaii Artists and Entertainment Professionals Relief Fund
Illinois
Massachusetts
Boston Music Maker Relief Fund
Volunteer Lawyers for the Arts
Michigan
Minnesota
Springboard Personal Emergency Relief Fund
New York
COVID-19 Business Assistance Survey
Local 802 Musicians' Emergency Relief Fund
New York Foundation for the Arts Emergency Grants
[email protected] (If you're out of a gig in NYC, send an email to this address and the nightlife office will advocate for you when the city puts together a relief package for uninsured/independent workers.)
NYC Low-Income Artist/Freelancer Relief Fund
Volunteer Lawyers for the Arts
North Carolina
Orange County Arts Relief Fund
Ohio
Columbus Artists Relief Fund COVID-19/Coronavirus
Greater Cincinnati Artist Relief Fund
Oklahoma
Oregon
Volunteer Lawyers for the Arts
Pennsylvania
Philadelphia Performance Artists' Emergency Fund
Pittsburgh Emergency Relief Fund for Artists
Tennessee
Texas
I Lost My Gig (for locals affected by SXSW cancellation)
Fort Worth Artist & Service Worker Relief Fund
International
Australia
Canada
Resources for Canadian artists, writers and media workers during COVID-19 shutdowns
New Zealand
COVID-19 Resources for NZ Music/Film Production Industry Pals
Donate
We suggest, first and foremost, donating to your favorite artists directly. But there are plenty of national and local organizations helping musicians that are currently crowdfunding. Resources like COVID-19 Freelance Artist Resource have created a growing list of places to donate, so be sure to check that out, and consider donating to your local music scene.
Actors Fund Entertainment Assistance Program
Boston Music Maker Relief Fund
COVID-19 Relief Fund for LGBTQI+ BIPOC Folks
Equal Sound Corona Relief Fund
Fort Worth Artist & Service Worker Relief Fund
Freelance COVID-19 Emergency Fund
Greater Cincinnati Artist Relief Fund
Hawaii Artists and Entertainment Professionals Relief Fund
International Bluegrass Music Association Trust Fund
Jazz Foundation Musicians' Emergency Fund
Local 802 Musicians' Emergency Relief Fund
Mutual Aid Project to Support Independent Artists in Response to COVID-19
NYC Low-Income Artist/Freelancer Relief Fund
Orange County NC Arts Relief Fund
Philadelphia Performance Artists' Emergency Fund
Pittsburgh Emergency Relief Fund for Artists
Seattle Artists Relief Fund Amid COVID-19
Springboard Personal Emergency Relief Fund
Supporting Performing Artists Affected By COVID-19