Review: The 2017 Fender Mustang Versus Its Vintage Predecessor
---
---
In 1964, Fender rolled out a line of affordable, short-scale guitars called Mustang with the intention that they'd be a staple for beginning students. By making a solid first impression with the instrument, they'd hoped those beginners would stick to the Fender brand when it came time for them to upgrade. Not only was the Mustang budget-friendly, it was also easy to play and with its lopsided, offset body, produced an impressive range of sound. Soon, the people at Fender found that the Mustang appealed to students and rock stars alike.
From Kurt Cobain to PJ Harvey, David Byrne to Bilinda Butcher, the Fender Mustang has its fingerprints all over the music that influenced me growing up, so I was glad to test it out for this review. For research purposes and very much also for my personal enjoyment, I borrowed a sweet vintage '66 Mustang from a friend to A-B for comparison with the special edition Mustang exclusively available at Chicago Music Exchange.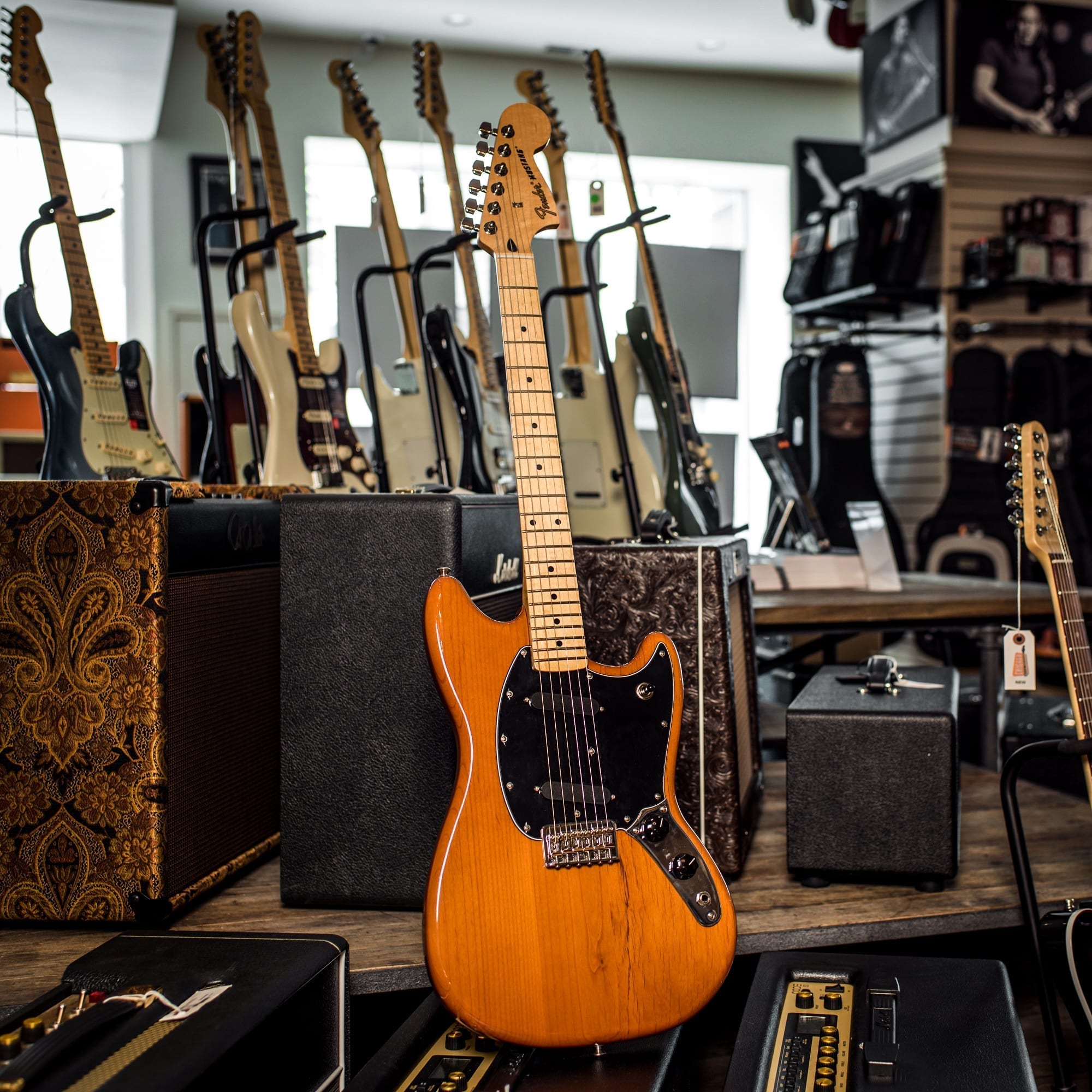 Not much has changed with the design of the newer model. With its classic body style coupled with it's big ol' headstock and chrome plating, this guitar has so much personality. The 2017 Mocha colored version is more minimalist in design than its predecessor, but it still has the classic single-coil pickups—albeit without the ability to switch them out-of-phase like their vintage predecessors—but they're wound a little hotter this time around. I'm loving that and I'm also particularly thankful that the pickup switch is on the lower part of the guitar—it stays safely out of range for my hand to smack the switch and change the sound halfway through a song. Fender has done away with the 60s floating vibrato bridge, but they made up for it in clarity and plenty of versatility with that tone knob. The 2017's finished maple neck felt distinctly different than the unfinished maple neck of the '66, but the sleek, natural finish made the new instrument look really warm and clean. I'd never actually played a guitar with a similar neck before, but I didn't mind the way it felt.
For my style of playing, the current Mustang single coil pickups have much more to offer than the low-gain vintage ones. Everything good I've heard about Mustangs in the past tended to revolve around its bright, punchy sound. The 2017 model delivers on that end even more than I had expected, along with the newer pickups producing way more signal. Since I primarily play with humbuckers, at first I found the brightness a little distracting, but the single coils won me over when I began playing the guitar through pedals. The Mustang's sound stands up to fuzz and overdrives, and gives the same clarity through big, roomy reverb. The punchiness is even more obvious the more you dig in, like a weird slap and twang combination that reminds me of an acoustic guitar.
Every pickup position has something I really like. The top pickup is probably my favorite of the three options, as its telltale Mustang punch is complimented with a nice boost of midrange—almost bringing me back to my comfort zone tonally, but with a fuller sound, roundness, and pleasing warmth. The bridge pickup is probably its brightest option, but it's never too harsh; it has a little bit more of a high end than the top, which cuts through effects with just enough bite to give it definition. The middle-switch position gives you aspects of both pickups—the clarity of the high end, the cushy midrange, and a fuller low end for a really balanced sound.
Throw in the tone knob and this guitar becomes everything I want it to be: The full range of pickup sound becomes malleable to tweak in any way you see fit. Plus, it offers the simplicity of one knob instead of a combination of switches and knobs of the classic vintage model.
As a tiny person, the small scale of the Mustang feels really good. It's lightweight, easy to swing around and rock out, and it feels more proportionate to my stature in comparison to a standard size guitar, even though it's only lacking an inch or two. Another thing about the Mustang that hasn't changed over the last half-century is its affordability: This amazing guitar is available for the unbelievable price of $500, and it's perfectly suited for a variety of players including first timers, seasoned players, or anyone who is smaller in size. When I picked it up today, I was going to write about how this would make a great starting guitar, but honestly, the more I play the Fender Mustang, the more I see why some of my heroes still play it. This is a guitar I will absolutely acquire in the near future.