Sona Jobarteh: Transforming the Kora Tradition
---
---
Sona Jobarteh on what playing the Kora means for her identity, her people, and her art.
At the main stage of the North Carolina Folk Festival in the fall of 2018, Sona Jobarteh walked on stage to a massive crowd. She had a rock-star attitude: confident, talented, and ready to get the audience excited. She picked up a kora, a 21-string plucked harp made from a gourd, and fastened it to a harness so she could stand and play. Backed by her band, she started her set. By the end, her magical performance had the audience clapping, singing along, and demanding more.
Part of what Sona Jobarteh is doing is completely traditional. She is carrying on a musical legacy of her family that goes back 700 years. She was born into one of the five principal Griot families.  The ritualized role of the Griots includes performing at weddings and baptisms, storytelling, keeping history and traditions alive. Not only is this a long formed legacy, she is directly connected with this practice; her father and grandfather were well-known musicians in the West African bardic tradition.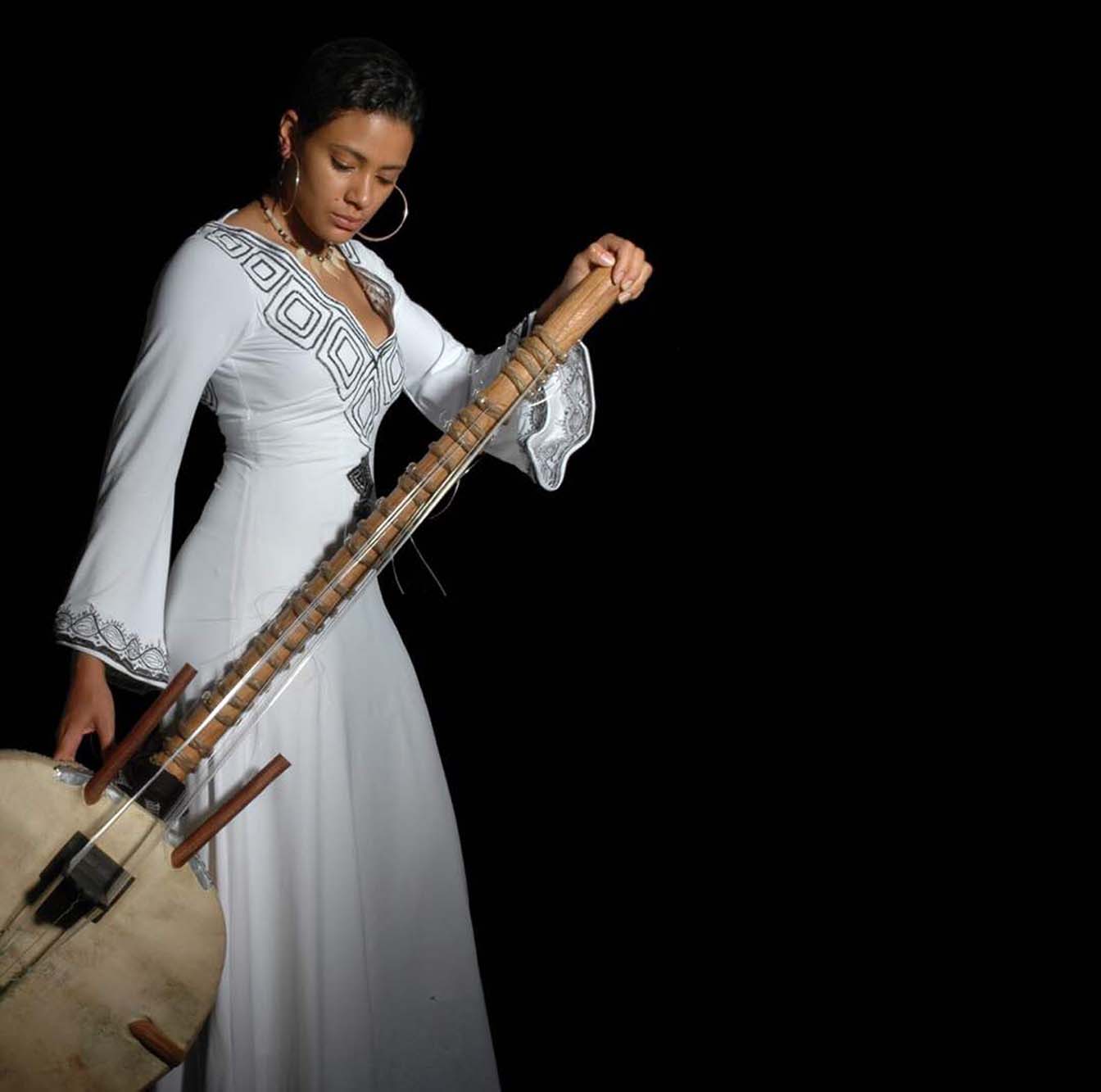 But a part of what Jobarteh does is not traditional at all. The kora has been a male-dominated instrument for centuries, and she is the first woman to play the instrument professionally. She is on her way to putting out her second album, has toured internationally, and is featured on the film soundtracks of "The First Grader," "Mandela: Long Walk to Freedom," and 2016 Roots television miniseries. Through her music, Jobarteh is transforming the tradition into something new.
Born in the Gambia, Jobarteh started learning the kora from her brother at a young age. "Gambia was the most important place for me, for my musical training," she says. Even when she moved to the United Kingdom to study classical cello and piano at the Royal College of Music and the Purcell School, she was drawn back to the kora and started studying with her father.
In the tradition of the Manding people, the culture Jobarteh is from, men play the kora because the music played on it is tied to male activities, like hunting. Jobarteh explains that because women give life, they should not take it away; men should be the ones involved in hunting and associated ceremonies, for example. "Music cannot be detached from its purpose," she says, and in these ceremonies, the kora cannot be detached from its male role either.
Women can also be Griots, but they are also singers. "Women choose to sing in music all over the word," rather than play leading instruments Jobarteh notes, and in the tradition that she comes from, they didn't pushback against not being able to play the kora, "because women want to be singers." But, she wanted to play the kora. "I went through so many different musical avenues [in school], and that reaffirmed that the kora most related to me in terms of the way I wanted to express myself musically," she says.
While her father taught her the kora, Jobarteh was also coming up with her own compositions, which she says can be challenging on such a traditional instrument. "I'd come up with a new song and play it for my dad, and he'd say, 'Oh, that's this song,' and I'd get frustrated." So she started writing songs on other instruments, including the guitar, to come up with the essential ideas. She'd then transpose her compositions onto the kora to get the sound and feeling of the instrument.
Although playing and practicing the kora is typically a communal activity, for her it was more private, practicing alone or with her dad. She felt — and still feels– respect for the tradition and the contexts in which she can play the instrument. "For me, when I was learning, I would never put myself in the context of traditional ceremony," she says. Instead, she saw an opportunity on stage. "I only went public when I knew that I could go out on a stage. It can be accepted because it's new [in the tradition]." She's on an internationals stage now, and doesn't feel that people are criticizing her for playing this typically male instrument. "I think people experience a lot of pride that someone is representing their culture on the international stage," she says.
She hopes that pride will infiltrate a younger generation. She has noticed that a lot of younger people are not playing the music at all, and says, "I'm starting to see that the fact that having the tradition at all is more important than it being a woman [who plays the instrument]." In 2014, she began building the Gambia's first cultural academy, and hopes to teach kora to both young men and women. And she hopes that maybe this next transformation of the culture will be when women can engage more as instrumentalists.