Reeking of Sex and Empowerment with LG of Thelma and the Sleaze
---
---
With the release of Thelma and the Sleaze's second full-length album, frontperson LG opens up about maturing in music while still having a rock 'n' roll edge.
On and off the stage, Lauren "LG" Gilbert of Thelma and the Sleaze has the type of Southern sass reserved only for no-bullshit bartenders in old dive bars in the middle of nowhere. The Nashville native's accent glided in and out of our conversation at a recent show in Portland, OR while she gracefully puffed on American Spirits. One of the first questions I asked the vocalist/guitarist was what kept her so hungry after all these years—she responded with, "Oh…well I just had nachos…"
Thelma and the Sleaze's second studio album, Fuck, Marry, Kill, released in August on The What of Whom and Burger Records, was originally titled Bras and Blazers. "I am an adult and I wanted to make a Robert Palmer [sounding record], but I wanted something that showed a maturity," says LG. "All of my songs are either about women that I've had torrid intimate relationships with or women that I've put on a pedestal that seemingly didn't deserve that… It's hard because the songs are so good, but also [there's] the heartache, the anger."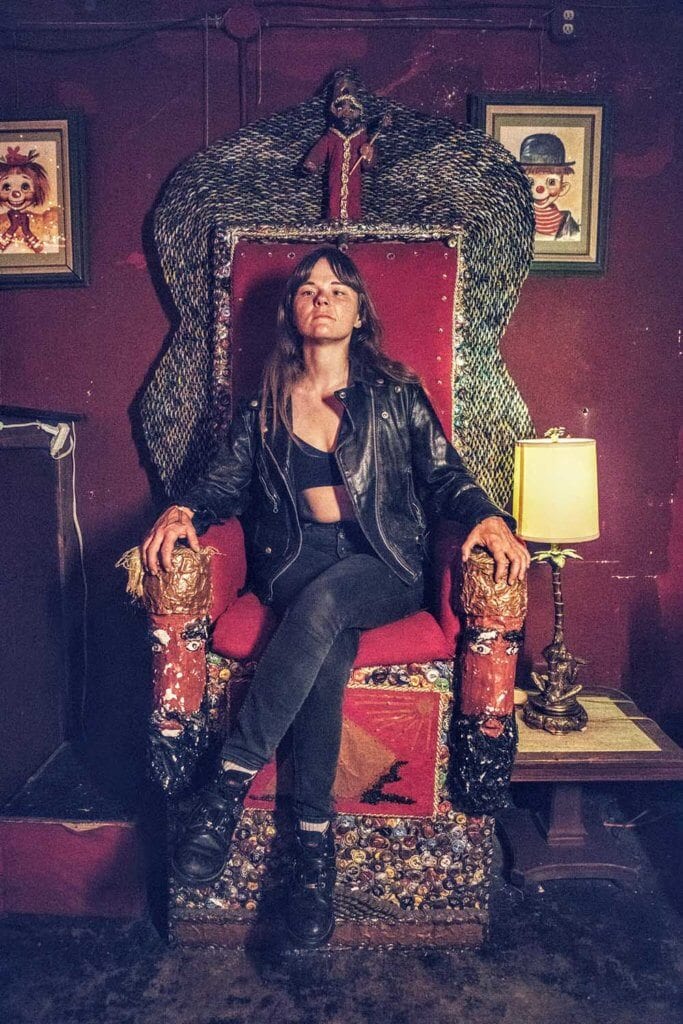 The evolution of LG's craft is evident. On the band's 2013 EP, These Boots Won't Lick Themselves, the song "High Class Woman" will forever be an anthem for those who seek that perfect woman, but each time it's performed live LG manages to add another layer of sticky sex. However, the musical progression from the band's earlier work to new songs like "I Bet You Cried"—which, on the flip side, is an emotional standout from the rest of the new record—is obvious. The track starts off simply, but then gently builds into an explosion of drums and details a relationship between LG and another Nashville musician: "We collided, and she put out a song about her struggle with whether she was homosexual. She told me very outright with tears in her eyes that she was but she had some very traumatizing experiences as a child. We made out, [and] I was like, this is either going to propel this girl into saying, 'I'm gay now' or she's just going to revert into her shell. Unfortunately, that's what happened. She was poof, gone. I think it spun her top, but it made me want to write this song in response."
Since Thelma and the Sleaze was founded in 2010, LG's songwriting has aged like a pair of Doc Marten's: they initially give you blisters, but eventually become soft, easy to wear, and always bad ass. Fuck, Marry, Kill has an '80s montage vibe without the cheesiness, and while it isn't the softest album title, the songs are ambitious, well thought-out, and still maintain that tough exterior.
Despite having frequent lineup changes, LG always manages to create a show that reeks of sex and women's empowerment. "I used to have a consistent lineup, but that's really hard," she says. "I'm really fortunate to live in Nashville and [not only] find these really great players, but some of them come to me—so I put them in my Rolodex."
Touring consistently is what pushed Thelma and the Sleaze to the forefront, and in 2016 they landed a support spot with rock band Eagles of Death Metal. The massive exposure of that tour should have propelled the band to an unfathomable amount of stardom, but it quickly fizzled. "It was a very tumultuous time in my life," says LG. "The glass ceiling was cracking all around me. My bass player was dating my drummer and they had issues, I had a record contract… and then everything kind of fell apart. But I'm glad it did, because we weren't ready. I wasn't ready."
Providing insight into their latest single, "Buyin' It," LG mentions that her inspiration for songs isn't based on specifics, but rather drawn from an experience: " I was outside of a bar one night catching up with this dyke I know and [we started] talking about someone whom I was [once] in very close proximity to, about all this crazy shit she has done since I stopped hanging out with her. She just uses whatever she has in her toolbox to get whatever she needs in that moment. But pretty girls get away with a lot more than snaggletooth, lazy-eyed girls."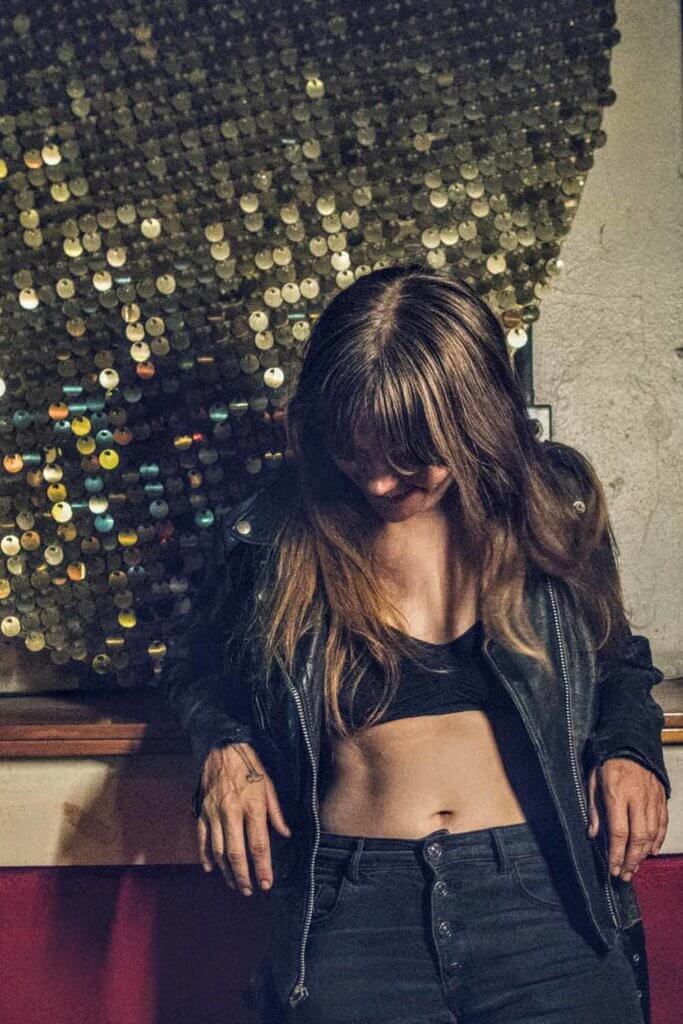 From simultaneously stroking her custom Telecaster guitar with a skateboard deck body to cracking jokes about ugly boyfriends and worshiping Peavey amps, LG's passion for music will seemingly never fade. With each lineup change, van issue, and woman problem, LG's hunger to make music and release it on her own terms is a preferable challenge. "Now is the time when women don't just need to be assertive in this industry—they need to fucking be in total control," she says. "That's what I did on this album; I took total control."
Just like two of her idols, Lucinda Williams and Lydia Lunch, LG refuses to settle. "They never compromised," she says. "They are well into their 60s and have always done it their own way. Whenever culture caught on to them, that's when they got their recognition. I think they, [along with] Tanya Tucker and Brittany Howard, don't compromise. [One day] you're going to be sitting outside your giant tour bus with a cool lesbian in a leather jacket, smoking cigarettes and [thinking], 'I just made a bunch of money and it's mine'—which is what those women were doing."
The hustle continues with a satirical Thelma and the Sleaze television pilot in the works, a vinyl release of the popular track "Leather Nights," and a potential six track EP comprised of Spanish folk music with keyboardist Amaia "Coochie Coochie" Aguirre.
"It's a really good time to be a woman in rock 'n' roll," says LG. "It's kind of like the fair: there's always a lot of booths that sell funnel cake, but it's all funnel cake. I think rock 'n' roll people want to feel good again. It's been hard the last couple of years. Making straight up rock 'n' roll is not in fashion, but every time it gets a little better. It's like Blackjack: you can't win if you don't play."