From Childhood To Legendary Musicians: The Millington Sisters and Fanny's Groundbreaking Legacy
---
---
This cover story originally appeared in She Shreds Magazine Issue #17, released April 2019.
You can donate toward Jean Millington's stroke recovery expenses, equipment, and modalities of therapy at www.gofundme.com/jean-millington-go
Fanny was the ferocious Los Angeles band anchored by sisters Jean and June Millington from the late '60s through the early '70s. Despite being one of the first visible rock groups made entirely of women, only in recent years has Fanny gained recognition as the throttling and critical part of the rock 'n' roll canon that they are. And that is nothing short of mind-boggling.
The Millingtons have performed and harmonized together since childhood, and started gigging in junior high: first with their band the Svelts, followed by Wild Honey, which ultimately morphed into Fanny. With June on guitar and Jean on bass, Fanny signed to a major label, becoming one of the first women rock groups to do so. They released an album every year from 1970 to 1974, often melding hard-edged riffs with soul-drenched keys. Along the way, Fanny held legendary jam sessions at their Hollywood Hills house, Fanny Hill, leaving jaws dropped wherever they played.
After June left the band in 1973, Fanny released its final album, Rock and Roll Survivors, with Patti Quatro on guitar; the band ultimately disbanded in 1975. Today, June works as the artistic director of the Institute for the Musical Arts, an educational institute that she co-founded with her partner Ann Hackler in 1986 with a mission to support women and girls in music. Jean has continued playing music over the years, and is currently recovering from a stroke.
Fanny's legacy is the subject of a forthcoming musical, written by Jessica Hagedorn and commissioned by Two River Theater in New Jersey, and a documentary is slated to release in 2020. Following the release of June's book, "Land of a Thousand Bridges: Island Girl in a Rock and Roll World," the two sisters reunited with Svelts drummer, Brie Darling, to form the band Fanny Walked The Earth—a testament to Fanny's seismic impact in music, then and now.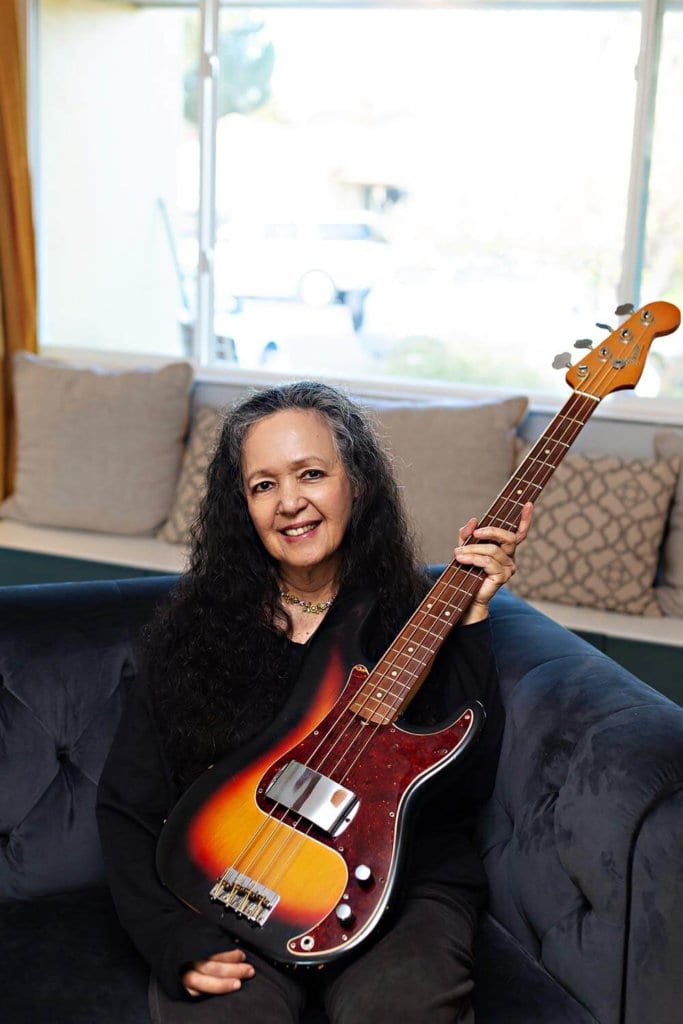 Can you tell me about growing up in the Philippines?
Jean Millington: In the Philippines, music is such a huge part of the culture. We were watching a TV show, [Estrella Watch Time], which was kind of like Soul Train, before any of that was ever on air in the States. From pretty early on, we were definitely inspired, and we both got into playing ukulele. After a bit of time, we got into more exciting things, and the guitar was certainly next.
How old were you both when you started playing the ukulele?
Jean: I was probably around 9 or 10, and June was 10 or 11. We picked it up quite naturally. It was actually amazing; we didn't even think about it, or that it would be hard to do. We just did it.
June: I remember somebody, maybe one of our cousins, handed me a ukelele and said, "This is how you tune it: [sings] my dog has fleas." He showed me three chords, and I think [the song], "How Much Is That Doggie In the Window?" Next thing you know we were playing songs off the radio. It was totally natural, like eating or breathing.
Did you perform for your family and friends?
June: At Sunday dinner every week, [our family] would have us sing. And if we went to the beach, especially in my mom's hometown, we would play for extended family. They were so proud of us. They couldn't figure out how we did it. But everyone sang along.
And then you moved to Sacramento as teenagers?
Jean: I was 12, and June was 13. That was certainly a really hard period, entering your teens. In the Philippines, school lets out in March, or something like that, and we didn't start school until September in Sacramento. So we were out of the loop for a long time, and how you meet kids is through school. It was very awkward and difficult for us. Besides the fact that kids [are] in a very cruel phase in junior high, June and I were total oddballs.
June: But they changed once we started playing music publicly. We sang a song at the junior high variety show in early spring
Jean: There was a song that June wrote [for the variety show] called, "Miss Wallflower of '62." [Laughs.]
June: So we'd arrived in '61, and by '62, we were singing that song. We met two other girls who also walked to school, and the four of us started singing together, with me and Jean playing the guitars and the other two singing with us—and it was kind of a hit! Kids started to stop us in the hall and talk to us, which was a complete revelation. We had no idea that was going to happen… I mean, for immigrants, that was everything.
That must have been a tough experience.
June: We found the same thing later when we started to play in the Svelts and people just rejected the idea completely because no one had ever seen it. [They] could not accept the idea that girls were in a band. Their reaction was to hate it right away. But when we started to play, they loved it. Music can turn stuff around like that—feelings, resentments, and prejudices. It's incredible.
It was a whole journey for us to get from playing acoustic guitars and singing folk songs basically—we sang at hootenannys—to starting the Svelts and playing gigs and booking them ourselves when the Vietnam War was starting. We were able to not just get gigs at high schools and frat parties at UC Davis, [but also], for example, at Air Force bases. That was a very formative period because we were able to get so many gigs. And we had to change really fast and get up to speed with what was happening in the world, in the country. And believe me, we did.
Jean: This was still the era of sock hops, and [our boyfriends] would get a gig and we would play when they were on a break. Pretty soon we were getting the gigs, and our boyfriends were not happy about that. But people really loved what we were doing. We played popular songs like "Be My Baby" [by The Ronettes].
June: "Nowhere To Run" by Martha and the Vandellas.
Jean: Not to mention Beatles stuff. "Eight Days A Week" was a big deal. Or the Beau Brummels [song] "Still In Love With You Baby."
June: We didn't start a band in a conventional way. We would hop on boys' instruments. Then we heard that there was a gig we could audition for. Of course, the boys auditioned, and we auditioned on their equipment as well, but we got the gig. And from that point on we had to get our own equipment. That was sort of our entry into show business: Are you going to rise up and do it? Are you going to somehow get that equipment so you can keep going rather than having something be a stumbling block?
But how did we do it? Through our mom!
Jean: I don't even know how she did it because at that time, I don't think my dad really allowed her to have a checking account or anything, so it's a mystery to me how she was able to sign for it. But she did.
June: It was a lot of equipment: bass guitar, bass amp, a PA, a bigger guitar amp than I had already. I had a Sears Roebuck, I think, from a pawn shop, so I got a real amp and a real guitar. Not that those Sears guitars are bad, but that's how we got our rig, man—with a PA! So within a few months we were booking our own gigs, pulling our own equipment around to Air Force bases and whatnot, and setting up the whole thing ourselves.
What were your first pieces of gear?
Jean: I think I had a Framus bass. And probably because Paul McCartney had one, I'm guessing that's why I got it. I don't remember what bass amp I got…
June: You probably got a Vox amp, because the Beatles were so big. I got a Gretsch Country Gentleman guitar and a Vox amp because that's what George [Harrison] played. I also had a Fender Mustang that got stolen. Those were my two first important guitars.
Jean: I still have my Fender Precision Bass that I've had since the '60s.
How does the story of Fanny getting signed to Reprise Records go? It happened one night that you were given five minutes to play at the Troubadour?
Jean: We were supposed to play probably two songs, and in the audience was a woman named Norma Kemper. She was [record producer] Richard Perry's secretary. She saw us play, and [the audience] loved us so much that we kept getting encores.
June: The audience literally got up on the tables and were stomping. That's when the Troubadour manager panicked. He ran up to Jean and said, "Play more, play more!"
Jean: And then Norma told Richard about us, and about two days later we auditioned for him. We probably played for a whole hour. If only we knew what happened to those tapes.
June: It was against all odds. No one had done it quite like that.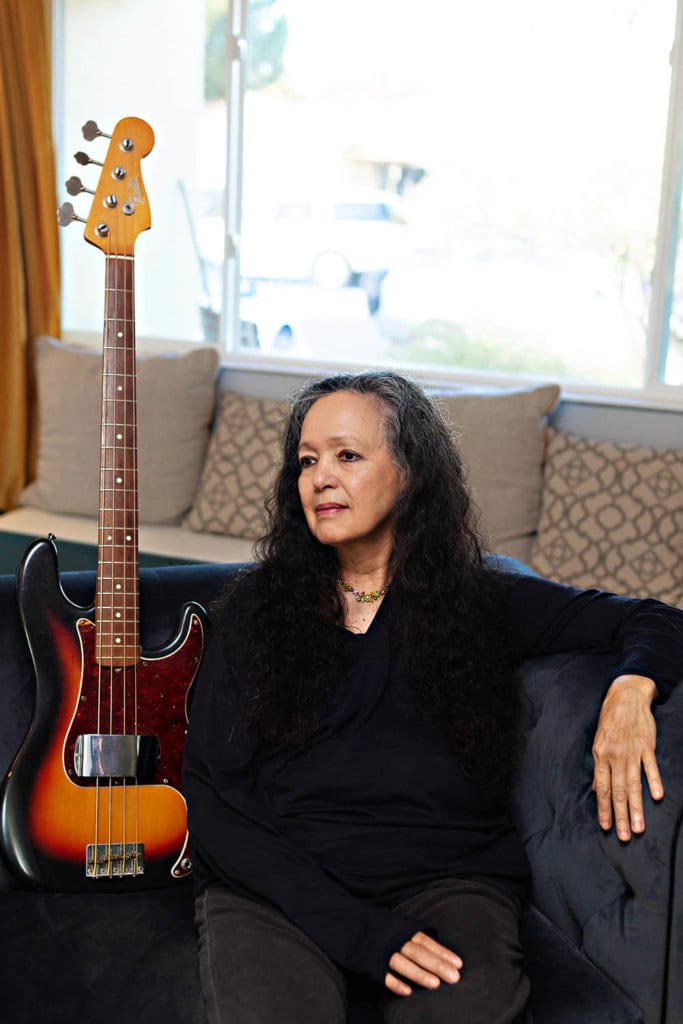 What happened after that?
June: We started to record, record, record. I mean really, it was just pure hard work all the time. We rehearsed in the house. We did gigs around Hollywood. And we were really good. That's one of the reasons Reprise were so behind us. They knew what they were marketing, and they were proud of us.
Warner Brothers, [which Reprise was a part of], let us rehearse at their movie sound lot, any soundstage that wasn't being used. And so we got used to projecting a bigger sound. Six months later, when we were playing at the Fillmore West, we knew how to handle that hall. On the album cover for Charity Ball, our second album, we used outfits from My Fair Lady—we actually went into wardrobe at Warner Brothers and each picked out our outfits and parasols.
June: Since we were signed to a movie company as well as a record company, a lot of opportunities were thrown our way, like practicing at Warner Brothers. Like having [actress] Candice Bergen shoot [the album cover]. And other artists like Little Feat—we loved them, they loved us—would jam with us at [our house] Fanny Hill. There was an awful lot of hanging out and horseplay and jams, which is what you need at that age, when you're working really hard night and day.
Jean: We definitely had a scene going. We had the basement setup for playing, and the guys really liked to come over and jam with us.
June: As I was learning how to play, all the guys who were really good would spend time with me, and that's how I learned how to shred in the way that I do. I learned how you hold the guitar, how you vibrato, how you push the string up, push it down, how you make it moan in the moment when you need it to.
How did you avoid burn out when working that much?
June: It's just what we did. We didn't try to avoid getting burned out. I think what really got us was, after our album on Apple [Records], we realized we hadn't gotten the hit yet. And we should have. Whether it was one of our songs, or "Hey Bulldog," which the Beatles let us add a verse on to… it seemed like society wasn't ready to accept us full-on. And that hurt us. I think that's why we're not in the Hall of Fame, because we didn't have a top 10.
But I really feel like we tried to write songs with a deeper meaning. We worked hard at it. Take a look at any of the songs that we wrote ourselves. They're not nonsensical. I don't even understand all of [Fanny keyboardist] Nickey [Barclay]'s lyrics, but when you put it together, you get a narrative. Like her song "Conversation With a Cop," it's quite beautiful. I wrote "Thinking of You," the love song. There's "Think About the Children." There's a lot of stuff that really had content.
Jean: There's a song I wrote called "What's Wrong With Me?" Just really thinking about what's going on in your real life.
June, do you mind telling me about your decision to leave Fanny?
June: Well, like I said, we realized we weren't getting a hit and we were so tired. There wasn't enough money coming in, and the record company started to panic and that filtered down to us. That undermined our confidence. Also, the woman I was with at the time left me, and so I had no personal life. That really freaked me out. And you've got to remember, we were in our early twenties. We were babies. So handling that and all of the pressure when we were so tired was, for me, too much. I had this feeling that I had to leave and I talked it over with Jean. I had to find out what was wrong and how I could be a real human being. I didn't know how to be a person.
That was truly frightening because I was going to leave Jean, which I didn't want to do. And everything we had worked so hard for since 1964, dreaming so hard—we were doing it. It was like a bad acid trip for me: we didn't have a hit, we were constantly on the road, creditors were hounding our management, and the record company was losing their edge on us. It was like ashes in our mouths. I also made a promise not to leave until we found my replacement, and then we found Patti Quatro playing in a band in Detroit. Jean and I looked at each other and said, "Hey, maybe this is the woman who's going to take my place."
Jean: Frankly, June, I blocked out so many of those memories that I don't remember how it came about with Patti playing… I was so blown away that you were going to leave, and it was not going to be what we had. It was a very difficult time period for me.
June: But I think it was really clear that I was so agitated. I mean, my mom thought I was going to die. It was not drugs, it was because I was so freaked out by where we had found ourselves. You can't help but feel a little bit sad. You wonder if I could have hung in a little bit longer, but nobody knows, because society was changing towards [bands] like KISS behind masks. And we wanted to be seen for who we were, and the music.
What was it like coming together again with Fanny Walked the Earth, after you played at a tribute show for June in 2016?
Jean: I think it mostly stemmed from that. We were playing together and saying, "Oh my god, this feels so good," and the vocals flowed.
June: It was pretty phenomenal. This tribute became a reading from my book plus everybody singing something that was associated with me, or a song that the Svelts used to do.
In order to understand Fanny, you have to get the Svelts, because that's where it all started. The energy that was the Svelts, when Brie [Darling], Jean, and I were in the band, manifested itself exactly as when we were 16 and 17. We were like, "Whoa, this is hot!" And that's exactly what happened [with Fanny]. It was supposed to happen. We have a rock and roll destiny that we just can't deny. It's so powerful.

JUNE
Instruments: Vintage 1957 Gibson Les Paul, 1959n Gibson Les Paul Jr TV Model, 2007 Taylor T5 Electric-Acoustic, 1960s Fender Stratocaster, 2011 Gretsch Electromatic
Amp: Fender Hot Rod DeVille 410

JEAN
Instruments: 1962 Fender Precision BassAmp: Genz Benz 6.2 Shuttle with a 12-inch speaker main cab and a 12-inch extension cab