Gear Guide: KC Dalager of Now, Now's Quest for Thick Rhythms
---
---
From the first time she picked up a guitar, KC Dalager of Minneapolis indie rock duo Now, Now wanted to write her own music. As she taught herself the instrument, she developed her own style of playing and adopted a
EAC#EBE
as her personal standardized tuning.
"I had never played guitar before, and I didn't have the patience to look up the chords. I wanted to be able to write instantly, and I realized with that tuning I could do almost anything," she says.
By 2003, Dalager had co-founded Now, Now (originally called Now, Now Every Children) with her high school classmate, drummer Bradley Hale. Since then, the group has released two full-length albums, a handful of EPs, and has become a familiar presence on the touring circuit and even late night TV (most recently with an appearance on Last Call with Carson Daly). They released a new single, "SGL," in May.
Over their career, Now, Now's lineup has changed several times, but whether playing primarily as a duo, a trio, or any other incarnation, Dalager's thick guitar rhythms have always been there there to fill out their sound (her keyboards make a big impact, too!). Naturally, her choice of gear was reflected both that penchant for volume and fluctuating number of bandmates to create it.
"Early on, I didn't understand how to accomplish what I wanted with the amps and pedals I was using, but my goal has always been a little bit the same in terms of the guitar parts I write; I like thicker rhythms," she says. As Now, Now gears up to release a new full-length album in 2018, Dalager says that element hasn't changed. "With the new stuff, I have explored a more lead guitar, which I haven't messed with much before, but it's always been heavier, thicker rhythm guitar."
Though she occasionally wonders how different her writing would be if she had classical training, Dalager takes pride in knowing her unconventional approach to playing has helped them forge their unique sounds and textures. "One thing that's been important to me in terms of playing guitar is to accept that I don't play guitar like everyone else does and to not feel bad about that," she says. "There were times where I'd feel, "Wow, I don't know shit about any of this." But the things I do know, like I have a good grasp of tone. That's what matters most to me in listening to something. I haven't mastered it, but I feel like I'm getting better at the things I've set out to get better at."
Check out some of Dalager's favorite guitars and guitar gear below. "SGL" is out now.
Fender Telecaster Thinline: I don't know what it was, but something happened where it sounds completely different from any other model of that one that I've played. I don't know if it's the wiring—it doesn't make sense, but it sounds different than any other Thinline I've played. I picked it up and it felt like magic.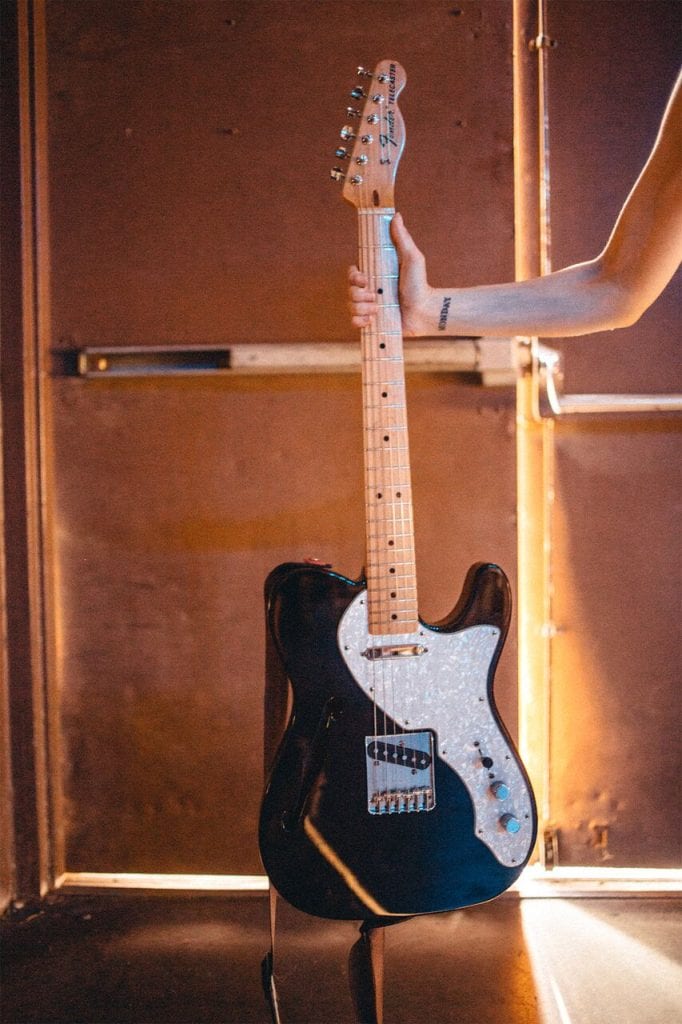 Fender Bassman '67: That's nice for that thicker, fuller sound that I really like. I bought that at the same time I bought the Thinline. That combination put me over the edge. It feels almost backwards to have those things paired together. I feel very emotionally attached to that guitar and that amp. I'm trying to not tour with that amp anymore because it gets a little more beat up each time, so I can be like "you can just hang out at home with me and I'll write with you."
Little Martin: This is pretty much my favorite thing to play with when I'm at home.
Gretsch Root Series G9210: This and the Little Martin have been my main writing guitars. I have them both sitting next to my bed so I can pick them up at any moment of the day. If I can't fall asleep I'll stay up and write. I discovered it at the same guitar shop as my Fender Thinline.
Ernie Ball Super Slinkys: For the thinline and my other electric [a standard Telecaster] I use these. They are thicker than the usual gauge. I use the thicker strings because it gives you a thicker sound. It's a little heavier, so it beefs up the sound compared to the thinner strings, which do sound a little brighter. This is going for depth, in combination with the Thinline and Bassman.
Electro-Harmonix Cathedral, T-Rex Alberta Overdrive, MPX Custom Badass Distortion Pedal: The MPX sounds so massive, it's crazy. I haven't tried it in any other context, but it works so well with my setup it's insane. These are my three go-to pedals live, and I've also been using my Whammy pedal on the chorus. We've used some chorus plug ins and filters on ProTools for the new songs, but pretty much everything went through my pedalboard.